Attic Insulation In Houston
If you're searching for Attic Insulation in Houston, we can help. Tip Top Services offers the best technique to install attic insulation! Our team knows how to insulate attics the right way for your home. Installing the best insulation for Houstonians! We offer 2 different types of attic insulation to fit every demand and every budget. Insulating the attic is one of the most important areas of the home to insulate to reduce dependency on air conditioning and heating. Read more about the types of attic insulation we offer.
Schedule Insulation Services Today
Blown - In Attic Insulation
One of the better choices is blown-in attic insulation, which comes in two main choices. There is cellulose and fiberglass blown-in material. Both have advantages and disadvantages. They both insulate well with similar R values and are approximately 3 -4 R per inch. Fiberglass insulation is primarily from old glass or sand. Cellulose blown-in insulation is from recycled newspapers. Blown-in or loose-fill fiberglass or cellulose insulation comes in highly compressed bags.
To properly install this type of insulation, we use a professional blowing machine and calculate the precise number of bags to achieve the desired R-value. The blowing machine is designed to open and fluff the insulation before blowing it through a hose. The attic is one of the largest sources of potential heat loss in a home and often one of the most neglected areas when it comes to insulation–especially in older homes. We can easily improve your existing insulation in your attic by blowing a blanket of fiberglass to increase your R-value. The higher the R-value of the insulation, the more resistance to heat flow it can provide.
Batt insulation comes in pre-cut panels and is typically made of fiberglass. The batt insulation is made from two source materials, cotton and fiberglass. Cotton batts are made from recycled denim jeans. Fiberglass batts are typically made from sand or recycled glass that is processed into the insulating strands and fibers. It's one of the most common forms of insulation available. Batts can be installed in various areas, such as the attic and walls, and this material works well in both new construction and retrofit projects.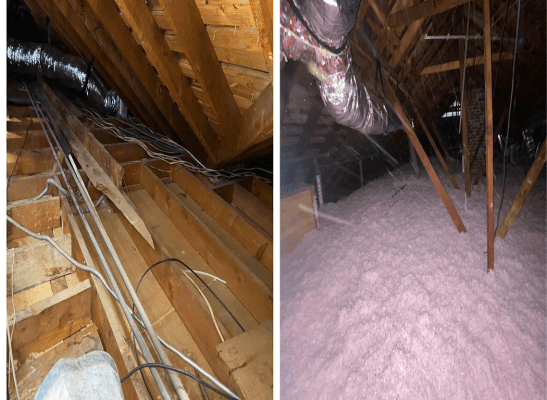 Top Notch Insulation Install
Clearly, the best attic insulation really depends on your home and your needs. If you don't have any ducts or HVAC systems in your attic and you don't plan to finish or use the attic space, you might consider one of the less costly insulation types. However, if you have ducts in your attic and you want to keep your house energy efficient. Using spray foam can be a costly but better investment in the long run. Have a local attic insulation expert come to your home and help you develop an effective and budget-friendly insulation plan. This is the only way to get the best attic insulation for your individual needs.
Contact Us Today Or Schedule An Appointment Online
We Provide You With Reliable And Long-Term Attic Insulation solution In Houston, Texas. Tip Top Provides You With Reliable And Long-Term Attic Insulation solutions In Houston, Texas. To Match The Growing Needs Of our Residential And Commercial Property Owners, Tip Top offers a wide range of services. When the Time comes, We Remain Flexible. So You Can Count On Us To Do An affordable Attic Insulation. As A Matter Of Fact, Customer Satisfaction Is What We Seek And Therefore, Once You Hire Tip Top, You'd Never Hire Any Other Repair And Maintenance Company In Houston. You Can Call Our Representatives For attic insulation costs & Details And A Free Estimate. To Know More, Call Us On (832) 374-8125.